Activity on the Bitcoin network is beginning to ebb due to lack of clear signs as to the market direction, claims Glassnode, a popular blockchain analytics firm. Despite earlier reports that more whales were accumulating, data shows the demand for Bitcoin and Ethereum has "fallen drastically" in the past week.
According to Glassnode, the BTC volume purchased during the early bull sessions is starting to mature into a long-term holding status.
However, the market is now in another shaky status after BTC miners unloaded over 5000 BTC in less than 7 days. Popular crypto analyst William Clemente III explained that this sell-off was one of the causes of the current drop in BTC price. BTC price has fallen 11% in the last seven days according to TradingView data.
The sell-off by miners is a new twist because apparently, BTC miners have not been selling their hard mined BTC until last week according to Glassnode. This is set to introduce more chaos despite all the positives the market has experienced lately.
Market pundits believe that the sell-off by miners, in addition to other negative sentiments, will continue to cause a further slump in BTC prices, which will force a drop in prices of other cryptocurrencies.
Nevertheless, data from Glassnode shows that more than 500,000 Bitcoins remained in illiquid status from March to May and the recent sell-offs saw 160,000 BTC changing hands. In other words, more BTC is moving to a "more patient status" or long-term holding status. This may act to shield BTC investors and traders against the effects of the sell-off by miners and reports of pending high interest and inflation rates this Thursday.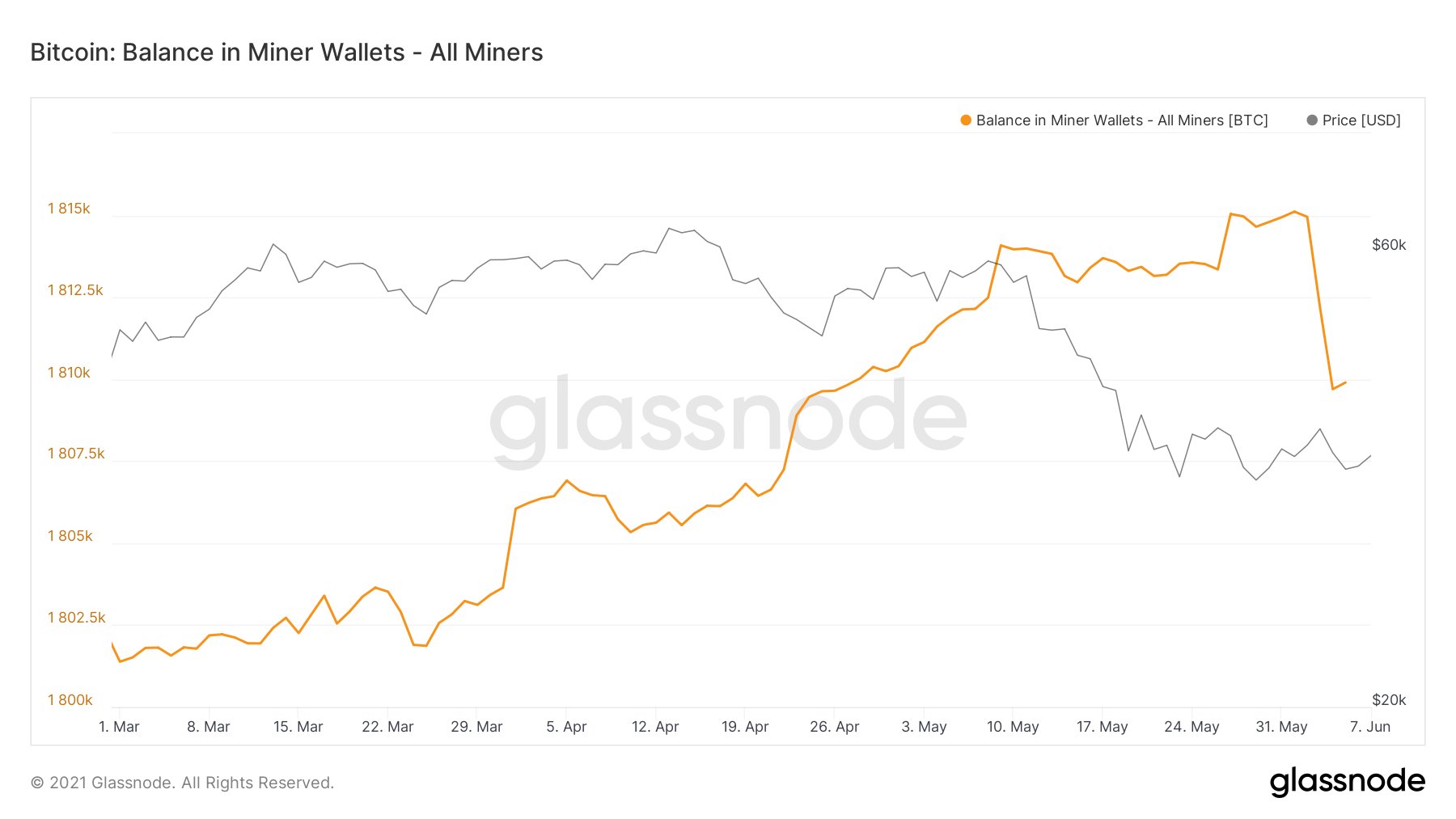 Market Mayhem
Confusion in the market is resulting from a mix of positive and negative sentiments and news around the cryptocurrency. From a successful proposal to adopt BTC as a legal tender in El Salvador to blockage of BTC accounts by China's Weibo, the market, and indeed the traders themselves, appear indecisive.
Despite last week's reports that whales were accumulating more BTC and are unwilling to dump, BTC and Ethereum settled volumes have reportedly fallen by 65% and 60% respectively in the last two weeks.
Additionally, the volumes and transaction fees are back to levels last witnessed in 2020 and early 2021 according to the latest analysis by Glassnode. Further, the network is tight-lipped regarding the demand for on-chain transactions, price action, and value settlement.
"As demand for on-chain transactions falls, the average transaction fee paid has similarly reduced for both networks," wrote Glassnode analysts. "All-time high mean transaction fees were reached in April and May, with short-term spikes reaching over $60 for both protocols. Mean fees for both networks have now returned to mid-2020 levels of around $3.50 to $4.50."